Auto Expel Misting Machine RMIST1
---
Availability:In Stock

Brand: Ring

Product Code: RMIST1
---
Have peace of mind and eliminate germs, viruses and bacteria from your vehicle. Due to its unique formula Ring Auto Expel sanitises the entire vehicle cabin, including the air-conditioning system. As well as creating a safe clean environment for you and your family, the mist will freshen your cabin, reducing stubborn odours.
Product Details
240V 400W

Suitable for use on all surfaces Including leather and cloths

Dry mist system

The mist machine heats up the sanitising liquid and produces a fine dry mist.

No wet residue left on the surfaces

Easy to use Vehicle will be free from bacteria and viruses within 30 minutes. Run the mist machine for just five minutes and allow the dry mist to settle for 25 minutes

Simply switch on the recycle air to pass the mist through the air-conditioning system for a complete sanitised vehicle

3 bottles of Auto Expel Sanitiser Liquid (Lemon Fresh, Showroom Fresh and Forest Cherry) are supplied with the machine.

Leaves a fresh scent in the vehicle.




Note: You must use Ring Auto Expel Sanitiser Liquid with this misting machine RAES100
Approval
Approval Type
ROHS Approved
Related Products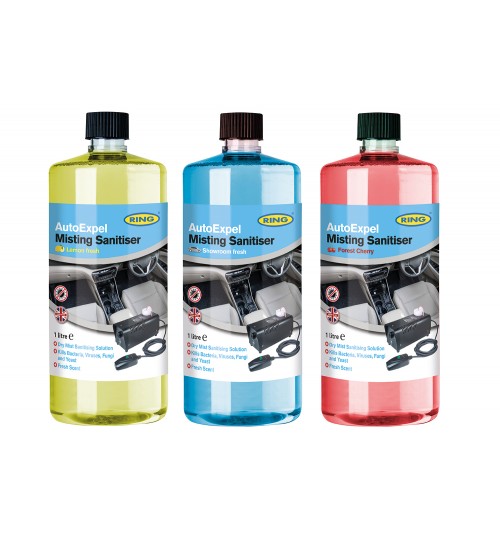 Auto Expel Sanitising Liquid is specially formulated to kill germs, viruses and bacteria from all su.....