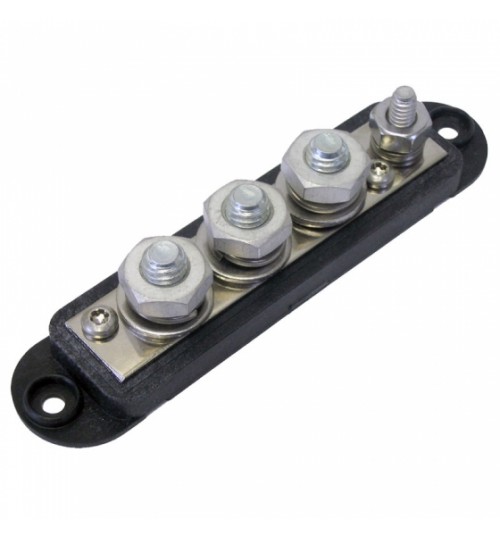 Power Distribution Bus Bar Black 7704NON141
---
Availability:Out Of Stock

Brand: VTE

Product Code: 7704NON141
---
4 point power distribution post (busbar) allows multiple power circuits to be split off from a single power feed cable. Glass filled nylon base. Nickel -plated brass alloy contact plate. All other parts are stainless steel.
Ideal for routing power around motorhomes, campervans, boats and other vehicles.
Each connection post can accommodate multiple connections providing a secure and flexible solution for power distribution.
Technical Data

Max Voltage Rating 48V
Max Current Rating 210A @12V
Terminal Post Diam 6.4mm
Connection Post Diam 9.5mm
Stainless steel fittings to resist corrosion in a marine environment.
Mounting Point Centres 118.4mm Mounting Hole Diam 5.0mm

Electrical Specification
Current (A)
Max Current rating 210A @12V