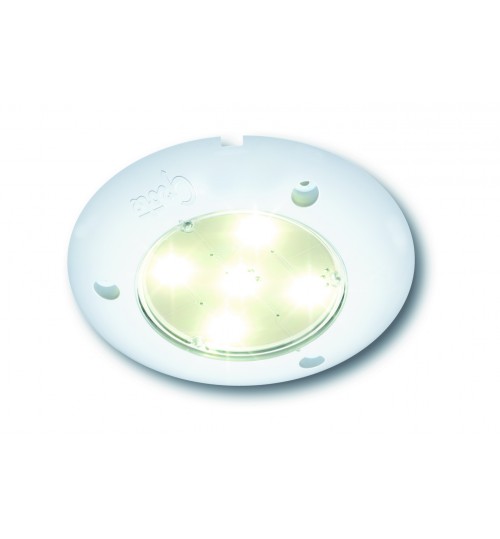 Interior Lamp with Motion Sensor 61337
---
Availability:In Stock

Brand: Grote

Product Code: 61337
---
Dual Voltage Interior Lamp with Sensor
LED - S -100 offers 300 lumens of nearly neutral white
light. It is easy to fit as a cut-out is not necessary. The low
power consumption means there is a very little heat generation making this lamp suitable for confined spaces such as interior lighting in trailer and van bodies. The robust waterproof construction makes this lamp maintenance free.
Direct battery operation is possible without motor idling.
This lamp also has an integrated infrared motion detector, no switch necessary. The detector works within 5m so that only the active area is illuminated

Techinal Data

Voltage 12/24V
Lumens: 300
Lux on 1m: 125
Scattering Angle: 120 degrees
Connection for Power Supply: 2 wire

Temperature Range: -20 to +50 degrees Celsius
Housing: Material Polycarbonate

Colour: White
Mounting: Smooth Surface Mount
Dimensions
Dimensions
L165 x W165 x H15mm
Electrical Specification
Current Draw
@ 12V 0.6 Amps
Voltage Rating (V)
12/24V