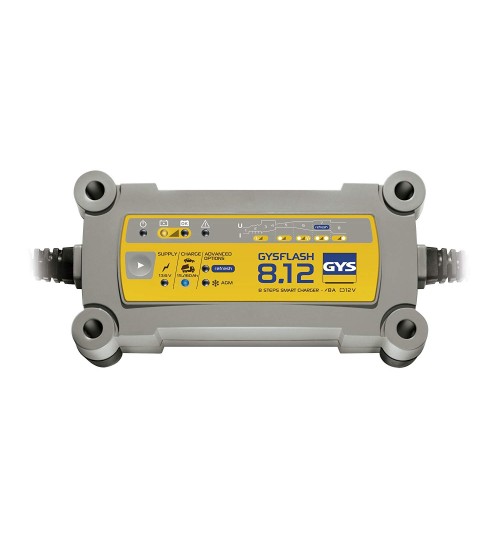 GYSflash 8.12 Battery Charger 029545
---
Availability:In Stock

Brand: GYS Welding

Product Code: 029545
---
The GYSFLASH 8.12 (UK) is an automatic charger designed to charge or maintain 12V batteries (liquid or gel). It is powerful, compact, light and water proof. Ensures an automatic charge up to 100% without supervision. Ideal for lawn mowers, bikes, cars, vans, boats, trucks, etc
Charges from as low as 1 volt.
Examples of use: - Charger for car/bike 12V battery - Maintenance/wintering - Battery recovery (for sulphated 12V batteries)
Protection for on-board electronics of your car. Protection against short circuits/ polarity reversals/ overvoltage Anti-spark system
Adapted to marine application, it doesn't create any galvanic current (current which electrolyzes the water and corrodes the hull).
Specific charge for cold temperatures.
Supplied with 2 quick connection kits (clamps and terminals). Cables with specific terminal connections to fix permanently to the vehicle, allows you to connect the charger quickly.
2 Charge Modes
AGM: Charge mode for cold weather (less than 5 degrees C) and for Start & Stop batteries (EFB & AGM)
Refresh: Recovers deeply discharged batteries.
Supply Mode: Transforms the charger into a stabilised power supply and preserves memory settings during battery replacement.
Optimised Maintenance Charge: the charge can remain plugged in indefinitely to maintain the health of the battery.
Auto Restart: The charge will automatically restart at the correct settings after a power cut.
Technical Data
Voltage - 12V
Charging Range 15-160Ah
Maintenance Range 240Ah
Floating level maintained at 100%
Suitable for the following battery types:-

EFB Silver/Calcium AGM Virla Gel Lead Acid

Approval
Approval Type
IP65