595 Series Compact Rear Combination Lamp with Dynamic Indicator 595STIML
---
Availability:In Stock

Brand: LEDAutolamps

Product Code: 595STIML
---
Compact 12/24V Rear Lamp Lefthand. Stop, Tail, and Indicator functions alongside an integrated reflex reflector and black chrome housing
The arrowhead Tail Light is diffused, producing a modern neon glow, whilst the Indicator operates with a progressive sequence to emphasise vehicle direction and increase road safety.
The 595 series is rated IP67 for total water and dust ingress protection and utilises the latest in highly-efficient LED technology to guarantee a long, service free lifespan.
Fully ECE approved.
Technical Data
12/24V
10 LEDs

Overall Size 193 x 123 x 28mm

Cable Length 300mm

Dimensions
Dimensions
L193 x W123 x H26mm
Electrical Specification
Current Draw
@ 13.8V: Indicator: 0.23A, Tail: 0.37A, Stop: 0.19A @ 28V: Indicator: 0.12A, Tail: 0.20A, Stop: 0.10A
Voltage Rating (V)
12/24V
Approval
Approval Type
Rated IP67 ECE R10 R3 R6 and R7 approved
Related Products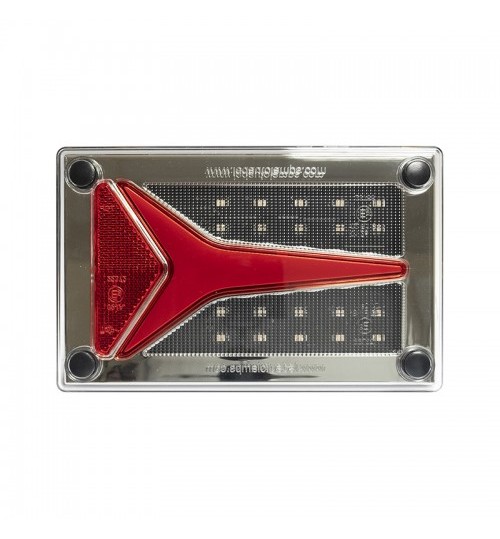 Compact 12/24V Rear Lamp Righthand. Stop, Tail, and Indicator functions alongside an integrated ref.....