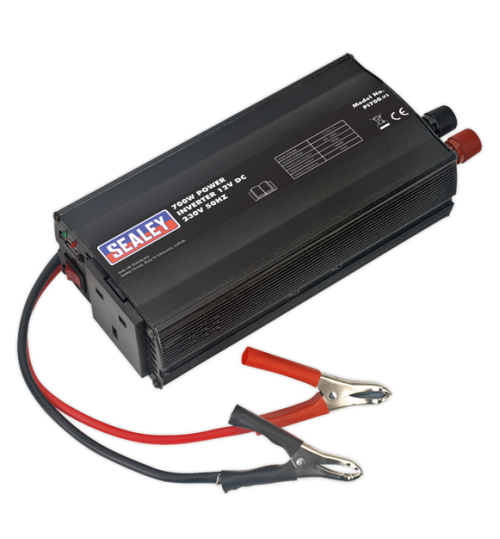 12V 700W Power Inverter PI700
---
Availability:In Stock

Brand: Sealey

Product Code: PI700
---
12V power inverter supplies continuous smooth 230V power from 12V DC power supply from automotive vehicles. Suitable for powering small TVs, laptops, power tools and various other electrical equipment within the wattage rating of the inverter. USB port for digital cameras and mobile phones.
Anodized aluminium case provides durability and maximum heat dissipation. Safety features include automatic overload shut-down and a low battery alarm to prevent damage to the supply battery.
Supplied with battery terminal leads.

Technical Data
Continuous Output: 700W
Input Voltage: 12V DC
Maximum Output: 1400W
Output Frequency: 50Hz
Output Voltage: 230V AC
Supply Connection: Battery Clips
USB Output: 5V 0.5A